United Hospital Limited
16 Years in service
Hotline (Open 24/7)
10666
Contact us via email
info@uhlbd.com
Plot: 15, Road: 71, Gulshan 2, Dhaka, 1212, Bangladesh
Info

Service

Doctors

Patient Opinions

Updates

Contact

Featured Services
About
Established in August 2006 and nestled beside the picturesque Gulshan Lake, this hospital stands as one of Bangladesh's largest private healthcare facilities. United Hospital boasts a capacity to accommodate over 500 patients and is equipped with 12 cutting-edge operating theaters to cater to a diverse patient base. With more than 30 clinical sub-specialties, our Centers of Excellence, including Cardiac, Cancer, Renal, Surgical, Neuroscience, Mother & Child Health, and Critical Care, are manned by esteemed doctors renowned in their respective fields. Since its inception until July 2021, United Hospital has achieved remarkable milestones. We have conducted 420,000 Cardiac Investigations, 55,000 Cardiac Procedures, and 14,000 successful Heart Surgeries with a 98% success rate. Additionally, we have performed 39 Kidney Transplants, 295,000 Hemodialysis sessions, 185,000 Radiation Therapy Sessions, and completed 196,000 Health Checkups. United Hospital has been at the forefront of various groundbreaking initiatives. We pioneered the Transcatheter Aortic Valve Implant (TAVI) procedure for Aortic Stenosis patients, the first of its kind in Bangladesh, within our Cardiac Centre. Our hospital takes pride in housing the only iGS 520 Hybrid Cardio-Neuro Cathlab in the country. Furthermore, our Pathology Laboratory was the first in the nation to receive ISO 15189:2012 Accreditation. The comprehensive Cancer Care Centre at our hospital features the country's sole Medical Cyclotron for producing radioactive tracer isotopes, benefiting all medical centers nationwide. We also possess the first and only TrueBeam Linear Accelerator for precise radiation therapy with minimal side effects. Additionally, our Renal Centre introduced Hemo Diafiltration and Bioimpedance technology, a first in the country, for patients with kidney diseases. Lastly, our Radiology & Imaging Centre houses the country's first 3.0T Signa Pioneer Wide Bore MRI. At United Hospital, our mission revolves around providing a trusted and compassionate healthcare environment for our patients. We draw strength from our purpose, which is, above all, to help and heal. Our physicians, nurses, caregivers, and supporting staff are passionate about delivering the right care at the right time, instilling hope and facilitating healing for our patients and their families. We deeply value the trust patients place in us with their lives, and all our caregivers acknowledge the immense responsibility that comes with that trust. The Best Hospital in Bangladesh-United Hospital was inaugurated on 24 August 2006 as a multidisciplinary 450 bed capacity, spread over a total area of about 450,000 sft, healthcare service provider for millions of people of Bangladesh. Since its opening the management is building up each department slowly and gradually. The departments currently functioning in the hospital including Cardiology, Cardiac Surgery, Gynaecology & Obstetrics, Orthopaedic, Neonatology & Paediatrics, Internal Medicine, Gasteroentology, Nephrology, General Surgery, Neuromedicine, Neuro-surgery, Nuclear Medicine, ENT, Dermatology, Psychiatry, Oncology, Ophthalmology to name a few. United Hospital launched comprehensive cancer care center first time in Bangladesh.
Mission
The mission of United Hospital Limited is to provide exceptional, comprehensive, and compassionate healthcare services to our patients. We are committed to delivering the highest standards of medical care, utilizing state-of-the-art technology, and employing a team of dedicated healthcare professionals. Our aim is to improve the health and well-being of our community by offering accessible and personalized healthcare solutions.
Vision
The vision of United Hospital Limited is to be a leading healthcare institution in Bangladesh, recognized for excellence in patient care, clinical outcomes, and medical innovation. We strive to set new benchmarks in healthcare delivery by continuously enhancing our services, expanding our expertise, and investing in advanced medical technologies. Our vision is to be the hospital of choice for patients, a trusted healthcare provider for the community, and a center of excellence in medical education and research. We aspire to make a positive impact on the lives of individuals and contribute to the overall advancement of healthcare in the country.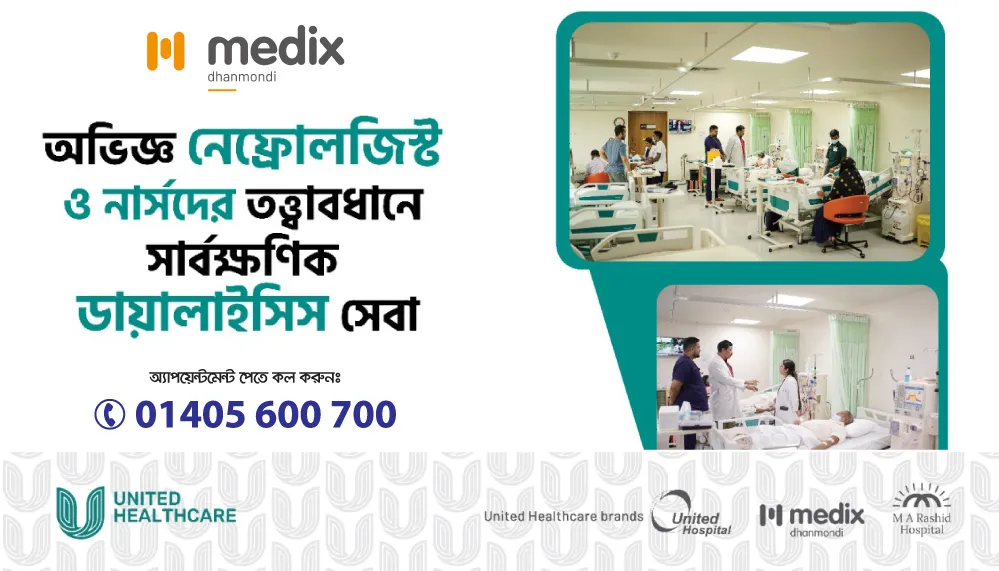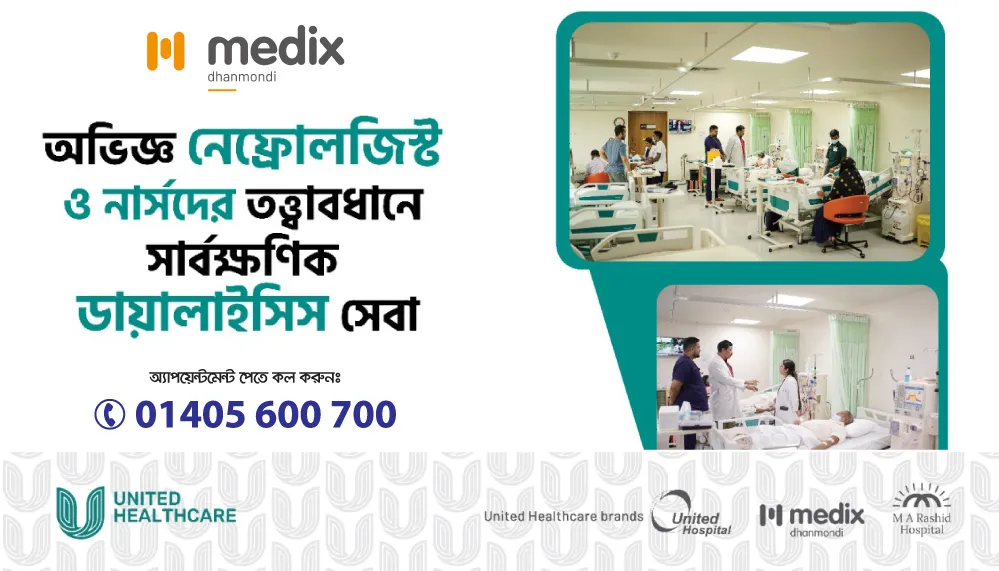 Chat with United Hospital Limited