Dhaka Central International Medical College Hospital
11 Years in service
Hotline (Open 24/7)
10651
Contact us via email
info@dcimch.com
2/1, Ring Road, Shyamoli, Dhaka, 1207, Bangladesh
About
Dhaka Central International Medical College Hospital (DCIMCH) is a 500 bed tertiary care Medical College Hospital. It is located at 2/1, Ring Road, Shyamoli, Dhaka-1207. We are offering advanced medical care with full time emergency & pharmacy services. Bangladeshi Physicians with impeccable reputation are part of our medical team. We care our patients first and helping them whenever their need arises. We are empowering you to manage your health in a manner that is aligned with your values and respect your culture, religion and beliefs. Dhaka Central International Medical College Hospital (DCIMCH) is established in 2011. We've a robust presence across the nation about healthcare delivery which includes Emergency Services, Primary Care, Indoor Hospital Services, Pharmacies & Diagnostic Services. At present, we have 104 teachers including Professors, Associate Professors, Assistance Professors and Lecturers as well. We've 560 medical students; of them more than 140 are from neighboring foreign countries. We are focusing on clinical excellence, affordable costs, advanced technology and forward-looking research & academics. DCIMC and Hospital embraced rapid advancement in medical equipment worldwide, and using several cutting edge medical equipment. Catering the needs of cancer patients, we are going to launch a separate 496 bed Cancer Based Hospital by 2022. Since inception, DCIMC and Hospital has been honored by the trust of millions of patients from across the country. As a corporate social responsibility, DCIMC Hospital love to take the spirit of leadership well beyond the business and it will embrace the responsibility of keeping it's community healthy.
Mission
Our mission is to provide health education and treatment with dependently and affordably.
Vision
To achieve a sustainable healthcare development in the country.
Managing Body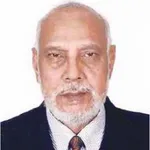 Dr. Md. Abdul Hye Chowdhury
Chairman
It is a great pleasure to look back on the years of experience, successful development and aspirations beginning with the establishment of DCIMC&H in 2011, and feel both proud and excited about the future. As a growing healthcare provider, we aim to continue to grow and keep our commitment to excellent care and advancing for the benefit of the community people. DCIMC and Hospital aspiring in the provision of high quality health care services and notably focusing in improvements with our patients in mind. We purposefully work on, and prioritize, attracting highly qualified medical professionals that live up to high international standards as well as our own. We always secure state-of-the-art equipment and make sure that our medical diagnostic laboratories consistently meet the international standards for reliable & effective treatment of our patients. We are adding new medical services which are aligned with intentional development of medical science.
Years of Experience: Coming Soon
What's New
Dhaka Central International Medical College Hospital published a new update.
10 Dec, 2023
বিজয় দিবস উপলক্ষ্যে ফ্রি মেডিক্যাল ক্যাম্প ।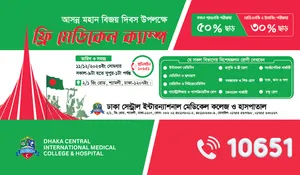 আগামী ১১ই ডিসেম্বর ২০২৩ ইং রোজঃ সোমবার, সময়ঃ সকাল -৯টা হতে দুপুর-১টা পর্যন্ত। মহান বিজয় দিবস উপলক্ষ ঢাকা সেন্ট্রাল ইন্টারন্যাশনাল মেডিকেল কলেজ ও হাসপাতালের উদ্যোগে ফ্রি মেডিকেল ক্যাম্পের আয়োজন করা হয়ে। উক্ক্যাম্পে আগত রোগীদের বিনামূল্যে চিকিৎসা সংক্রান্ত পরামর্শ এবং প্যাথলজি পরিক্ষা ৫০% ও রেডিওলজি পরিক্ষা তে ৩০% ছাড়।
যে সকল বিভাগের বিশেষজ্ঞগন রোগী দেখবেনঃ
ইন্টারনাল মেডিসিন

প্রসূতি ও স্ত্রী রোগ

অর্থোপেডিক সার্জারী

মেডিসিন ও হৃদরোগ

নবজাতক ও শিশু রোগ

নাক, কান ও গলা

মেডিসিন ও নিউরোমেডিসিন

গ্যাস্ট্রোলিভার ও প্যানক্রীয়াটিক রোগ

জেনারেল সার্জারী

চক্ষু রোগ

স্থানঃ ঢাকা সেন্ট্রাল ইন্টারন্যাশনাল মেডিকেল কলেজ ও হাসপাতাল।
২/১ রিং রোড, শ্যামলী, ঢাকা-১২০৭, বাংলাদেশ।
যোগাযোগঃ
১০৬৫১
০১৪০৯৯৬৭৩৫১
০১৪০৯৯৬৭৩৫৩